Will Biden's $10 Billion Fund Will Take Back the US Cybersecurity To Being Great Again ?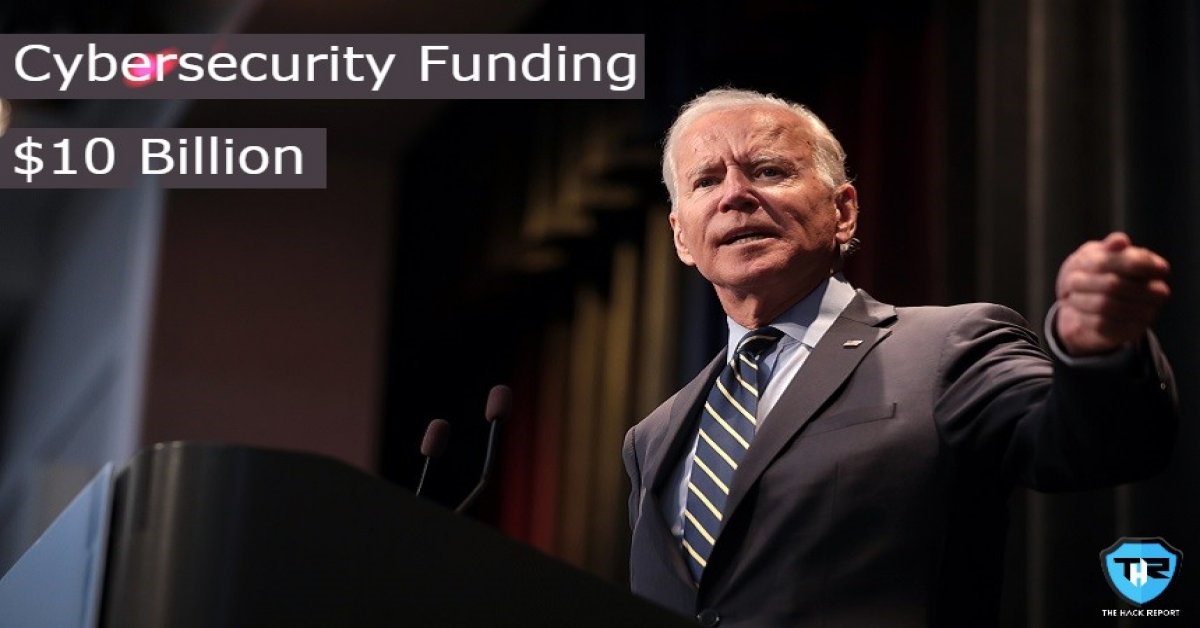 Joe Biden, earlier, already announced that cybersecurity will be his top priority even before he took over office. President Joe Biden, after the SolarWinds Supply-Chain attack was disclosed, that affected several tech organizations and more than 250 government agencies of the US, said, "My administration will make cybersecurity a top priority at every level of government."
However, it has been quite clear that Biden's prominence regarding cybersecurity is far bigger than just the Solarwinds attack. Microsoft's corporate venture arm's strategy development manager for M12, Lee Feldman, said, "this was part of his campaign platform. It's not just something that's purely reactionary or politically motivated.
It was legitimately one of the things that he ran on, and some of his key personnel moves are good indicators of how big of a priority cybersecurity is going to be under the Biden administration."
Biden has appointed a lot of cybersecurity experts and specialists, who are experienced in both the private and public sector, to fill up the seats which were terminated under Trump's administration and have also set apart $10 billion for launching several cybersecurity services.
Tom Kellermann, who is the head of a cybersecurity strategy at VMware, explained, "It highlights how cyber is one of Biden's top three priorities. You have the COVID, you've got the economy, and you have cyber, and you have a president who has really called out cyber for being an imperative as much as the previous regime literally went in there and gutted our cyber apparatus. This is going to be the most pivotal year in American cyberspace. We will either win this fight to civilize American cyberspace, or we will lose it."
And as it can be seen, Biden has already appointed top officials for this battle. Biden is expected (likely) to appoint Jen Easterly who previously has been a National Security Council official, now identified as the head of resilience at Morgan Stanley as his public cyber chief to lead the recently made White House office that will manage cybersecurity tasks for the government.
A week ago, the organization designated Chris DeRusha who has been an Obama-period official for cybersecurity as the federal's new Chief Information Security Officer (CISO). DeRusha has additionally worked for the Biden operation to forestall a rehash of the 2016 Russian hacking disaster.
Furthermore, Cyberscoop hinted that Dave Luber will fill in as the director of the NSA's cybersecurity in an interlude manner. Recently Biden moved the latest NSA cybersecurity chief, Anne Neuberger, to the White House National Security Council where she will be the deputy national security consultant for digital and arising innovations.
The previous NSA liaison official in the U.K., Rob Joyce, will take place of Neuberger. The executive director of the National Cyber Security team, Kelvin Coleman, said, "We shouldn't have to mention this in 2021, but I think the administration is really showing that there are a number of women out there who are absolutely leading in this area. It's about time that we put people with the appropriate ability in the appropriate place, no matter their gender and hopefully race at some point."
Rob Silvers who is an overseer of the election security and works towards defending the networks and frameworks of the government from hacks and cyber attacks, who also worked in the Obama administration as a DHS official, is expected to be appointed as the director of CISA (Cybersecurity Infrastructure Security Agency) by Biden.
Tom Kellermann expresses that, "I call them the dream team. They are exactly what we needed to bolster the Night's Watch to use a GoT reference. They are exactly what we need to counter the insurgency that is currently being waged in American cyberspace, because there was really an absence of leadership, aside from Krebs going out of bounds and fighting the good fight, under the previous administration. These folks are very cyber-savvy, as is the National Security Advisor, and they are not only are they cyber-savvy, but they specialize in Russian policy and Russian everything which is important because Russian cyberattacks pose an urgent threat to national security. Right now we need to deal with Russia. Period."
He further explains, "I've been advocating for the creation of a superfund for those forfeited assets in the Treasury and using those monies to fund critical infrastructure projects in the U.S. He explains his expectation from the Congress to "pass a law that would provide a tax credit for companies that invest a certain portion of their IT budgets in cybersecurity and also have a dedicated CISO."
Since the Biden Administration is reconnecting with the worldwide communities, Kellerman anticipates U.S. cybersecurity authorities to work all the more intimately with their unfamiliar partners in unified countries and he said that "and there will be a dramatic strengthening of NATO's cyber capabilities."
CISA under the new administration will probably grow its threat chasing endeavors past the elections and government network framework and into a severe foundation. Kellermann said, "I think CISA will be put on steroids."
Obviously, the entirety of this requires investments and to it, Biden presented around $9 billion for CISA just as a wide security update all over the central government. Biden additionally needs to contribute $300 million to assemble new secure innovation programs at the General Services Administration, another $200 million to adopt new cybersecurity innovations and engineering skills, and $690 million to enhance security monitoring and incident response all over the government.
Stephen Moore, VP, and chief security at Exabeam stated "President Biden's new proposal of a funding injection to shore up the U.S.'s cybersecurity capabilities should hopefully allow our country to better remediate some of the issues in improving security monitoring and incident response across the government."
Feldman explained that he anticipates a significant part of the investment in technology and procedure to focus on ensuring the safety of government networks with a zero-trust framework. He also said that "This is the concept of eliminating any trust from the network, and really scrutinizing any access into that network. Essentially, it's figuring out what is the perimeter and protecting all angles of it."
The business sector has already pushed towards this with a more proactive way to deal with security as of late, and it's time for the public sector to take action accordingly. Feldman anticipates that the government should contribute across "the four pillars of zero trust" that are identity management, conditional access, endpoint security, and application management.
He also explains, "we need to move to the front lines, and start being hunters, finding these vulnerabilities before they happen." It's an ideal opportunity to move past the government's Einstein framework and work towards zero-trust networking, which will likewise help forestall future supply-chain assaults like SolarWinds, says Eric Wenger, who drives Cisco's security policy work.
He further explains, "There is a growing recognition that the Einstein system kind of outlived its usefulness because the way that we build and use networks now have has dramatically changed. And so the idea that you can sit on the perimeter and then watch all the traffic as it comes through is not effective if you have an adversary who is operating behind your lines and then making a horizontal attack. This is an opportunity for the government to make sure that the investment reflects the way that technology is currently being used and the threat surface that results from that."
This shift or upgrade will surely bring opportunities for organizations and vendors that offer tools for DevSecOps and Zero-trust. Feldman says, "I can name a million companies that are innovating in these spaces — there's so many," he said. "But I think that the ones that are going to really see some of this opportunity are those with a desire for service, those that want to do business with the government to help the country and its citizens. And those who also recognize the opportunity and have the patience to go through those processes, and ultimately potentially reap very large long-standing awards."
If you like this article, follow us on Twitter, Facebook, Instagram, and LinkedIn.