Dark Web's Largest Illegal Marketplace Called DarkMarket Taken Down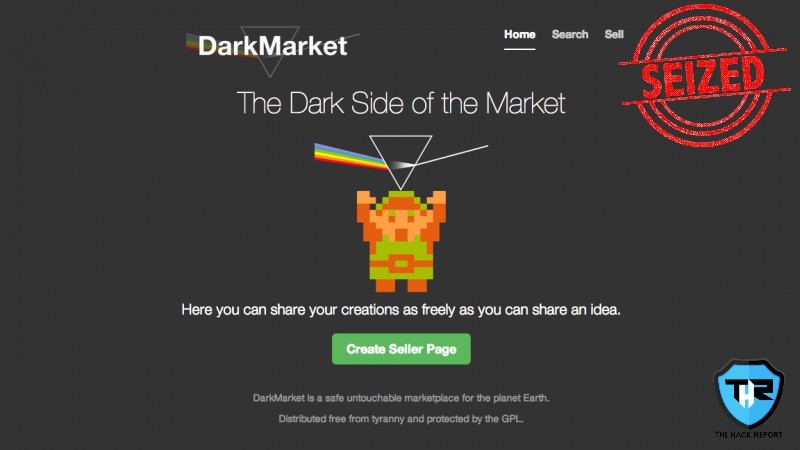 DarkMarket Considered to be the world's largest illegal online market for illegitimate goods and services was taken down on Tuesday, Europol stated in a news article. It was part of an international operation that involved Germany, Denmark, Ukraine, Australia, Moldova, the National Crime Agency of the U.K., and USAs DEA (Drug Enforcement Administration), FBI (Federal Bureau of Investigation), and IRS (Internal Revenue Service).
Europol explained that the DarkMarket had almost 500,000 users, more than 2,400 sellers, with more than 320,000 transactions in total that caused transfers of more than 4,650 bitcoins and more than 12,800 monero which calculates more than a total of 140 million Euros estimating $170 million. This DarkMarket mainly focused on the sale of counterfeit money, all sorts of drugs, random unknown SIM cards, forgotten or breached information about the credit cards, and various unavailable harmful malwares.
With this takedown of the illegal marketplace, the Central Criminal Investigation Department in a German city in Oldenberg arrested a 34-old Australian who is on suspicion of being the mastermind and operator of the DarkMarket near the German-Danish border on the weekend. DarkMarket was discovered during an ongoing important investigation against the CyberBunker, which was a web hosting service that earlier in the past served WikiLeaks and The Pirate Bay.
The DarkMarket had almost or more than 20 servers placed in Ukraine and Moldova that were used to perform operations on the DarkMarket and are now seized by the law enforcement agencies. Europol explains that "The stored data will give investigators new leads to further investigate moderators, sellers, and buyers".
However, DarkMarket must have been shut down but hidden and invisible marketplaces will still continue to share illegal data, like Joker's Stash for trading harmful softwares and malicious malwares. This Covid-19 pandemic is another consideration that has increased social engineering attacks and scams by the increased use of goods and services.
Earlier in April 2019, one such Dark Web marketplace named Dream Market was taken down. Just a month later, in May 2019, an operation led by Europol was successful in shutting down Silkkitie also called Valhalla Marketplace, and the Wall Street market. At the time, the Wall Street Market had more than 1.15 million users with 5,400 vendors who used to sell malware, drugs, and other illicit stuff. Another well-known Dark Web marketplace called the Empire Market, famous for the buying and selling of drugs, unexpectedly disappeared (went offline) around August 2020 and is believed to have used the exit scam. An Exit scam is a misuse of trust (a trick) in which a business, company, or organization stops to ship orders but still takes payments for new and pending orders and then disappears with the money gained from unshipped orders.
Such events have forced cybercriminals to search for alternative events to gain trust to sell their goods and services. Cybercriminal has started using services like encrypted emails (Sonar & Elude for instance), discord private channels (to perform transactions) and using websites like DarkNet Trust that claims to make sure the seller is genuine by filtering usernames.
Europol concluded by stating that "The team also aims to enhance joint technical and investigative actions, organize training and capacity-building initiatives, together with prevention and awareness-raising campaigns – a 360° strategy against criminality on the dark web.
A shared commitment across the law enforcement community worldwide and a coordinated approach by law enforcement agencies have once again proved their effectiveness. The scale of the operation at Europol demonstrates the global commitment to tackling the use of the dark web as a means to commit a crime".
If you like this article, follow us on Twitter, Facebook, Instagram, and Linkedin.